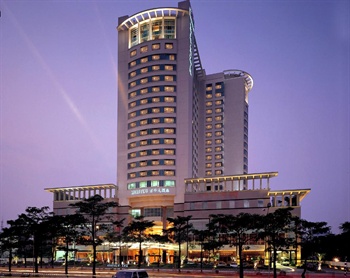 The Shantou Junhua Haiyi Hotel (Shantou Junhua Haiyi Jiudian) is a 21-story deluxe hotel centrally located in the city's business district on Jinsha Dong Lu (East Jinsha Road), a 20-minute drive from the airport.
This Shantou hotel's 380 guestrooms showcase an eclectic collection of furniture styles. All rooms are equipped with climate control systems, TVs, international telephones, electronic safes and minibars.
The hotel's restaurants offer a wide selection of Chaozhou and Guangdong cuisines.
For banquets, events and functions, the hotel provides five meeting rooms and a grand ballroom that seats up to 800 guests.
For recreation, this Shantou hotel has an indoor swimming pool, gym and steamy sauna.